Turkey Scholarships
Turkey Scholarships | Last Update: 27-09-2023
Summer Turkish Language Scholarship
1. Applications for undergraduate programs will be opened at
(10-01/20-02-2023)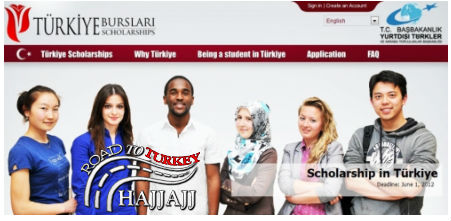 Register Turkey research Scholarship (here)
Register Summer Turkish Language Scholarship (here)
Apply Turkey Scholarships 2022 – 2023 (here)
Graduate Scholarships in Turkey 2022/2023  (here)
FAQs for Turkish scholarships (here)
The monthly pension
Bachelor : 850 Turkish lira
Master : 1150 Turkish lira
Doctorate : 1650 Turkish lira
Research : 3100 Turkish lira
Age requirement
Bachelor : less than 21 years
Master : less than 30 years
Doctorate : less than 35 years
Research : less than 45 years in absolute terms
Stages of Turkey Scholarship
Stage 1 of Turkey Scholarship Application Evaluation:
For those who successfully submitted applications for Turkiye Burslari Scholarship (Turkey Government Scholarship, are now required to wait patiently and keep close eyes on their email inbox and spam folders. After closing date of Turkey Scholarship applications, the evaluation period for Turkiye Burslari Scholarships began which will be finished latest by the end of April.
Stage 2 of Turkey Scholarship interview calls:
The successful candidates will be informed by email about their selection into the next interview round for the Turkey Government Scholarship. Candidates can expect the receiving of emails by the end of April and it is advised to keep a close eye on your SPAM and inbox folders to make sure that you don't miss out the Turkey Scholarship Interview call letter email, which will also enclose the interview schedule.
Stage 3 of Turkey Scholarship Result Announcement:
After the closing of the Turkey Government Scholarship interviews period, the staff will again evaluate the applications and then the panel will make their final decision on selection of the candidates and arrange their placements in Turkish Universities. The final results of the Turkey Government Scholarship will be announced by the month of July 2019 and then candidates who receive their selection emails have to sign/confirm/accept the scholarship and admissions.
Stage 4 of Turkey Scholarship VISA process:
The selected students for the Turkey Government Scholarship will receive the admission and scholarship documents along with student VISA form. Candidates will be required to complete all the documents and then visit the Turkish Embassy in their country to apply for Student VISA. Upon receiving the Turkish Student VISA, you then have to buy tickets for Turkey and plan your journey to arrive in designated Turkish University for registration of the semester to begin your academic journey on a fully funded scholarship by Turkish Government.
For more details see the Brochure of Turkey Scholarship 2022
---
Names and Conditions of Scholarships in the past
---
Important Notes
1. Applications for undergraduate programs will be opened at
(10-01/20-02-2022)
2. Grant comprehensive expense fees, air tickets and shuttle fee-year preparatory language, monthly pension
3. Utilization of the university health services
4. Seats by region  not by Country
5.The choices should not put more than half in the big cities
(Istanbul – Ankara – Izmir)
6. FAQs for Turkish scholarships
---