Marriage in Turkey for foreigners
Marriage in Turkey – last update : 29-09-2023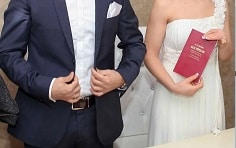 Table of content
In The First

Important Notes

Procedure Costs

Pay attention to

Keywords
Foreigners marriage and Marriage processes
How do I register my marriage in Turkey?


How can foreigners get married in Turkey?


What are the required documents to get marry in Turkey?


What is celibacy certificate?


Marriage in Turkey In The First
What are the documents i have to bring?
Correspondingly to complete the marriage procedures, the spouses must bring :
Civil status certificate or in the same way called celibacy document

Birth certificate
Marriage in Turkey so important Notes
Firstly the civil status certificate must be certified by the Ministry of Foreign Affairs in their country according the spouses nationality and according to their passport.

And then certified by their consulates in Istanbul (then followed by the authentication of the Kaim Makam).

Moreover Certified by their embassies in Ankara ( followed by the stamp of the Turkish Foreign Ministry ) Nothing else is needed

Another key point The celibacy document must include the father and mother names furthermore they will not need the birth certificate.

In addition that the celibacy document does not include the father and mother names, the birth certificate must be authenticated too.
Marriage Procedure Costs
Procedures average costs, which take a period of not less than 30 days in the event that you decide to do so personally

Translation, attestations, family boo, etc. is approximately 350 Euro / contact us to know the expenses an urgent marriage.
To complete marriage procedures so pay attention to the following 
In reality civil marriage can not be concluded for a married person.

Although there are not any civil marriage by power of attorney

Surely with regard to citizens of European countries, their documents additionally do not need to be certified by any party in the event that their documents issued are multilingual. Besides

 if their documents are certified by the Apostille stamp.
To request a  marriage procedure service, please contact us directly
Keywords
Procedure for making official civil marriage contract for foreigners
Required documents for marriage
Steps and documents to confirm the marriage
Necessary documents to get marry
foreigners marriage in turkey 2023
Marriage law official civil marriage in turkey
Rituals Traditions Ceremonies Divorce in Turkey